What Is a Public Easement?
A public easement is a special type of property ownership. When an easement exists on a piece of land, the owner of that land must permit others to use the easement for the stated purpose. If the easement is a public easement, the person who owns the land has to allow members of the public to access a defined area of his land for the reasons stated in the easement.
There are numerous forms of land ownership within the United States and within most other common law states. Most people who own land have a fee simple absolute. This is the simplest and most complete type of property ownership. A person with a fee simple absolute on a piece of land can do anything he wants with it, as long as he doesn't violate other laws.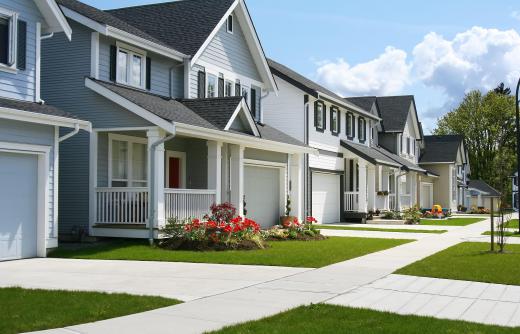 An easement, on the other hand, is a much more limited type of property ownership. An easement is a non-possessory interest, which means that if a person is granted an easement, he does not own the land and cannot use it at will. When the easement is granted, it will stipulate a specific purpose that the portion of land can be used for.
For example, assume that Mr. Smith owns a piece of property. That piece of property lies between a neighborhood of individuals and the public sewer lines. The local government may wish to run sewer lines through Mr. Smith's property.
In that scenario, the local government could request a public easement to run the sewer lines. If Mr. Smith gave his permission, then the state could draw up an easement contract or land deed stipulating that the public has the right to run the sewer lines through that land. The easement would be limited though, by the stated purpose. This means the state could run sewer lines on Mr. Smith's land because of the public easement, but it could not also run power lines on the same plot of land because power lines were not stated as a right granted by the easement.
Once a public easement is granted, it becomes a part of the land on which it is based. If, for example, Mr. Smith wanted to sell his land, he can no longer sell a complete 100 percent ownership interest in it. He will sell the land with the public easement attached. Often, individuals, including the government, who want an easement on someone else's property will pay for the easement, although sometimes owners will grant an easement for free.
Are Easements Public Property?
An easement is an agreement that grants someone else the right to use your property for a specific purpose. However, it does not transfer ownership of any part of your property, nor does it restrict your use as long as you don't infringe upon the other party's rights.
Private and Public Easements
Some easements are private, meaning they are granted only to certain individuals, such as a neighbor. A public easement, on the other hand, allows access for the general public. If, for example, you live next to public forest land, and the trail used to access the land passes through your property, a public easement would allow anyone to use the trail.
In either case, an easement is considered non-possessory. This means that, while an individual or the general public may be allowed to use your land, it remains your private property. The other party has no rights to it other than those spelled out in the agreement.
Care and Maintenance
The owner of the public easement is responsible for maintaining it. In the above example, the city or town would be responsible for the care and upkeep of the trail. While you would not be permitted to do anything that would damage the trail or make it inaccessible, you also would not be responsible for its upkeep.
Repairs and Improvements
Although the easement owner is legally responsible for its maintenance, you have the right to repair or improve it if you wish. If you have a public road on your property and you decide to pave your driveway, you are free to pave the public road as well.
Can You Build a Fence on a Public Utility Easement?
Since the easement is legally your property, does that mean you can do anything you'd like to it, such as building a fence? The answer depends on how it is being used and how your modifications affect it.
Public Easements
In general, you are allowed to do anything you'd like as long as it does not violate the terms of the easement. For example, if there is a public right of way that crosses your property, you may build a fence on or around your property as long as it does not restrict access to the right of way. Blocking access to a public easement may result in legal action against you.
Utility Easements
You are typically allowed to build on top of a public utility easement. For example, if you have a city water line under your property, you may build a fence over it. However, the city would have the right to tear down the fence to access the water line for repairs.
Are Easements Public Record?
In most cases, there is a written contract that specifies what an easement is to be used for. Not only does this protect the best interests of both parties, but it also ensures that any future owners of the property understand their rights and obligations.
This record is normally filed as part of the property deed with a local office; this may be the town or county office depending on what state you reside in. Unfortunately, not all easement agreements are recorded. If there is no written record, a future owner of the property may have grounds to terminate the arrangement.
Can You Remove a Public Easement?
Perhaps you have just acquired a property with a public easement and you want to remove it. Perhaps you have owned the property for a long time, but now allowing public access has become an inconvenience. Unfortunately, you are likely to have a difficult time getting the easement removed.
A public easement is different from most legal contracts. It is recorded as part of the deed to the property and remains in place when the property is sold, so any future owners must adhere to the same terms.
Challenging a Public Easement
In some cases, the easement holder will agree to terminate it. Some easements have expiration dates; if this is the case, it will be stated in the paperwork. If the expiration date has passed, your case should be straightforward.
Otherwise, your only option is to go to court. While removing a public easement is difficult, there are a few circumstances that may work in your favor:
The easement is no longer used
The easement is no longer necessary
The easement is being abused or misused
The previous property owner failed to properly record the easement
You may need to consult a real estate lawyer for help getting an easement removed.
AS FEATURED ON:
AS FEATURED ON:





By: Barbara Helgason

An easement requires a property owner to allow public access to a limited portion of land for a stated purpose..