What is a Motion to Comply?
A motion to comply is a legal request made to force someone involved in a case to take a specific action. The motion is brought before a judge who rules on whether or not to grant it. If the judge determines that the motion should be granted, an order is issued to the target of the motion. Failure to comply with this order can result in legal penalties, including fines and jail time.
More properly known as a motion to compel, a motion to comply is commonly filed when people do not receive an adequate response to a previous request. For example, people involved in a suit go through a period known as discovery, where motions can be filed to request that opposing counsel show evidence or respond to written questions. If the other side does not respond or provides incomplete responses, a motion to comply can be filed to order that side to respond.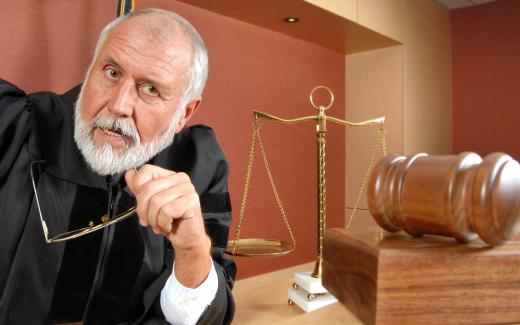 In order to file a motion to comply, a lawyer must outline the desired action and explain why the target of the motion should be legally compelled to follow through with it. Sometimes this is a very straightforward process. For example, if an attorney knows that the opposing counsel is retaining a letter instead of surrendering it during the discovery process, that attorney can order that the letter be produced. In other cases, an attorney may need to show that a response to a discovery request is incomplete without being able to specifically describe what is missing.
In addition to requesting that the judge issue an order to force compliance, a motion to comply can also be used to request sanctions against someone. If a party has failed to comply with previous legal requests, a judge is empowered to use sanctions such as fines and other measures. Judges may grant a request to sanction if it is evident that this party is behaving in contempt, rather than making an innocent mistake.
Different legal systems have varying legal procedures, and the rules of procedure also change at different levels of the legal system. A legal education is designed to provide people with the information they need to follow procedure but attorneys practicing in unfamiliar environments may need to consult statutes and established guidelines for procedure to confirm that they are doing things right. Failure to follow procedure can mean that a motion will be rejected because it is not presented properly.
AS FEATURED ON:
AS FEATURED ON:





By: Junial Enterprises

A motion to comply is brought before a judge who rules on whether or not to grant the motion.