What Is the Difference Between Murder and Homicide?
The words murder and homicide are often used interchangeably throughout the media and on television. A considerable difference in meaning, however, does exist between them. Homicide is any event when a human being dies because of another's actions. Numerous variations and degrees of homicide exist, including those that are justifiable and criminally negligent. Murder is a type of homicide that involves both malicious intent and prior thought.
A crime occurs anytime a human being dies at the hands of another. The act of killing a person, whether deliberately or unintentionally, is known as homicide. This, in turn, is broken into different types and degrees as appropriate to the crime. Examples include vehicular homicide, homicide in self-defense, justifiable homicide and criminally negligent homicide. Each of these means something different in a court of law.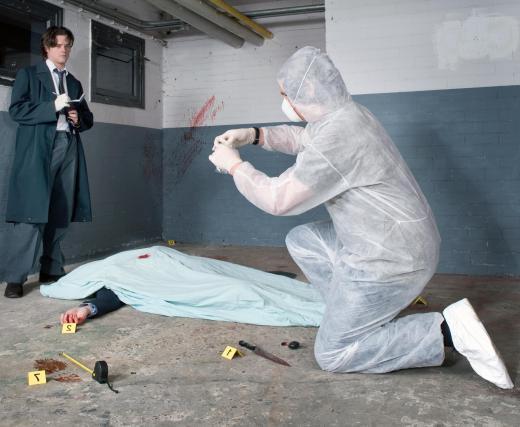 Manslaughter is a type of criminal homicide often defined as the unlawful killing of a human being without malice or premeditation, either implied or expressed. When a person injures or kills someone during the commission of a crime, it is usually considered implied malice. Expressed malice is a situation where the person communicates that he or she intends to commit a crime against someone else. Malice usually involves intentionally harming a person financially, physically, or psychologically.
Murder, unlike manslaughter, does require malice, either express or implied. Many legal definitions of murder consider malice to be the essence of this crime. Murder occurs when a person's life is taken by another through deliberate and conscious acts. When a person commits murder, he or she also thought about it beforehand, even if for a brief second. This establishes malicious intent.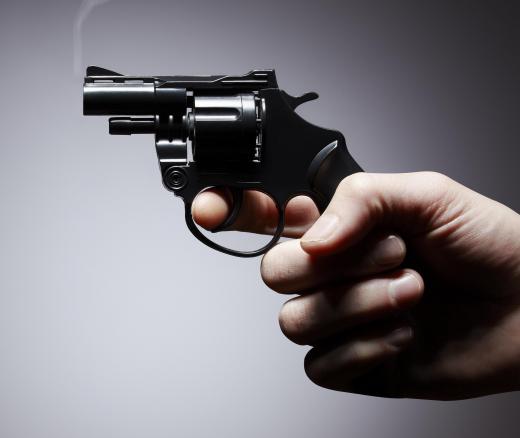 Intent is often identified in the actions of a person. If, for example, an individual deliberately fires a gun into a crowd of people, a court may see this as specific intent to kill anyone the bullets hit. When a person's gun goes off while he or she is cleaning it and another individual is killed, the specific intent to kill is usually not involved. Both scenarios are examples of criminal homicide, but only the former is considered murder. All murders are homicides, but not all homicides are murders.
Murder and homicide are often categorized by degrees, which reflect the intent of the perpetrator and the gravity of the crime. First, second and third degrees are the classifications of murder. Not all jurisdictions use these classifications, with third degree murder being the least used.
Both premeditation and cruelty with afterthought exist in first degree murder. Some jurisdictions, such as the state of California, consider an unintentional killing that happened during a crime such as robbery, rape or arson to be first degree murder. Premeditated murder and homicide may receive the maximum allowable sentence after a conviction.
Second degree murder is similar to first but without premeditation. This may also encompass murder and homicide that occurred because the perpetrator exhibited dangerous behavior without the intent to kill. Second degree murder may be assigned to crimes of passion as well, an illustration of which is when one spouse kills the other. Third degree murder is also manslaughter, and this variation is used only in some cases. The statutes that define third degree murder are likely to vary considerably among jurisdictions.
What Is a Homicide?
Homicide occurs when one human being kills another human being. The only requirement for an act to be called a homicide is that it is a volitional act. Simply put, a volitional act means that one person decided to do something and act on it. Because the definition is so broad, a homicide may be due to a reckless or negligent act or it may even be accidental. Homicides occur even if Person A did not intend to harm Person B. There is a wide variety of homicides. In addition to those that people have commonly heard of, such as murder and manslaughter, there are several other types.
Justifiable Homicide
Typically used as a criminal law defense, justifiable homicide occurs when there is enough evidence to disprove the alleged criminal act. In the United States, justifiable homicide is often the consideration in any case where the death occurred because Person A was acting in self-defense. It is also considered justifiable if the homicide occurred to prevent the deceased from committing a serious crime, such as armed robbery, murder, or rape. Many states require a defendant who is claiming self-defense to obey a duty to retreat, which means the defendant should first retreat to safety and only act in self-defense if absolutely necessary.
Euthanasia
Homicide in the form of euthanasia occurs when Person A ends the life of Person B so that Person B no longer deals with pain and suffering due to physical or mental ailments. Laws regarding euthanasia vary greatly from country to country as do personal beliefs surrounding the controversial topic. In fact, since 2006, it is the most active type of research in bioethics. Passive euthanasia has long been common (such as when Person B no longer has cognitive function and Person A is taked with "pulling the plug"), but euthanizing consenting, cognitively functional adults is still a gray area.
Capital Punishment
The death penalty, formally known as capital punishment, is another excellent example of homicide. The state-sanctioned punishment for crime is a legal form of homicide and carrying it out is known as an execution. There is a wide range of crimes that are considered punishable by death. Known as capital offenses, some of them include murder, child sexual abuse, terrorism, war crimes, treason, and in some cases, kidnapping, aggravated robbery, and drug trafficking. In fact, the list of crimes punishable by death is long and the ones listed here are just a small sample. In the United States, 27 states, as well as American Samoa, the federal government, and the military use capital punishment. Although legal in many areas, the death penalty is quite controversial. Twenty-three states and many countries around the world have made the punishment illegal to date.
Homicide vs Manslaughter
While some homicides are intentional, such as those in self-defense or to stop someone from committing a serious crime, manslaughter is a type of homicide that is rarely intentional. While manslaughter is still a crime and does receive punishment in courts of law, the cases are treated as much less severe than other types of homicide, especially those that fall under murder. There are several different types of manslaughter.
Involuntary Manslaughter – Involuntary manslaughter occurs when Person A disregards the life of another person and Person B dies because of it. This type of crime is committed without premeditation or intent to kill. Examples include accidentally discharging a firearm or using and abusing drugs. Punishment for involuntary manslaughter may include a prison time of up to four years.
Voluntary Manslaughter – Voluntary manslaughter occurs when Person A means to kill Person B but did not plan it in advance. Very often, voluntary manslaughter is a crime of passion, such as if a person comes home to find his or her spouse cheating and Person A kills Person B in the heat of the moment. Depending on the circumstances, voluntary manslaughter can carry a prison term of more than a decade.
Vehicular Manslaughter – Perhaps the most common type of manslaughter is vehicular manslaughter. When Person A is a negligent driver and causes an accident that kills Person B in another car, it is manslaughter. The sentences surrounding these types of cases vary greatly depending on the cause of the accident and Person A's overall driving history.
It's important to note that there is a wide range of nuance that factors into homicide, manslaughter, and even murder. Some situations will not cause a person to be charged at all while others can lead to long prison sentences or even the aforementioned capital punishment.
AS FEATURED ON:
AS FEATURED ON:





By: corepics

Murder involves prior thought and malicious intent.

By: corepics

Manslaughter is a form of criminal homicide.

By: hues

Criminal homicide may be charged as murder, manslaughter, or unlawful negligence.

By: Andrey Burmakin

Murder occurs when a person's life is taken by another through deliberate and conscious acts.

By: Felix Mizioznikov

A non-criminal homicide may be a justifiable homicide, like killing in self-defense.

By: Kadmy

A person is charged with vehicular homicide when he or she has caused the death of someone else while driving.

By: Monkey Business

Negligent homicide covers cases of death resulting from negligence during surgery.